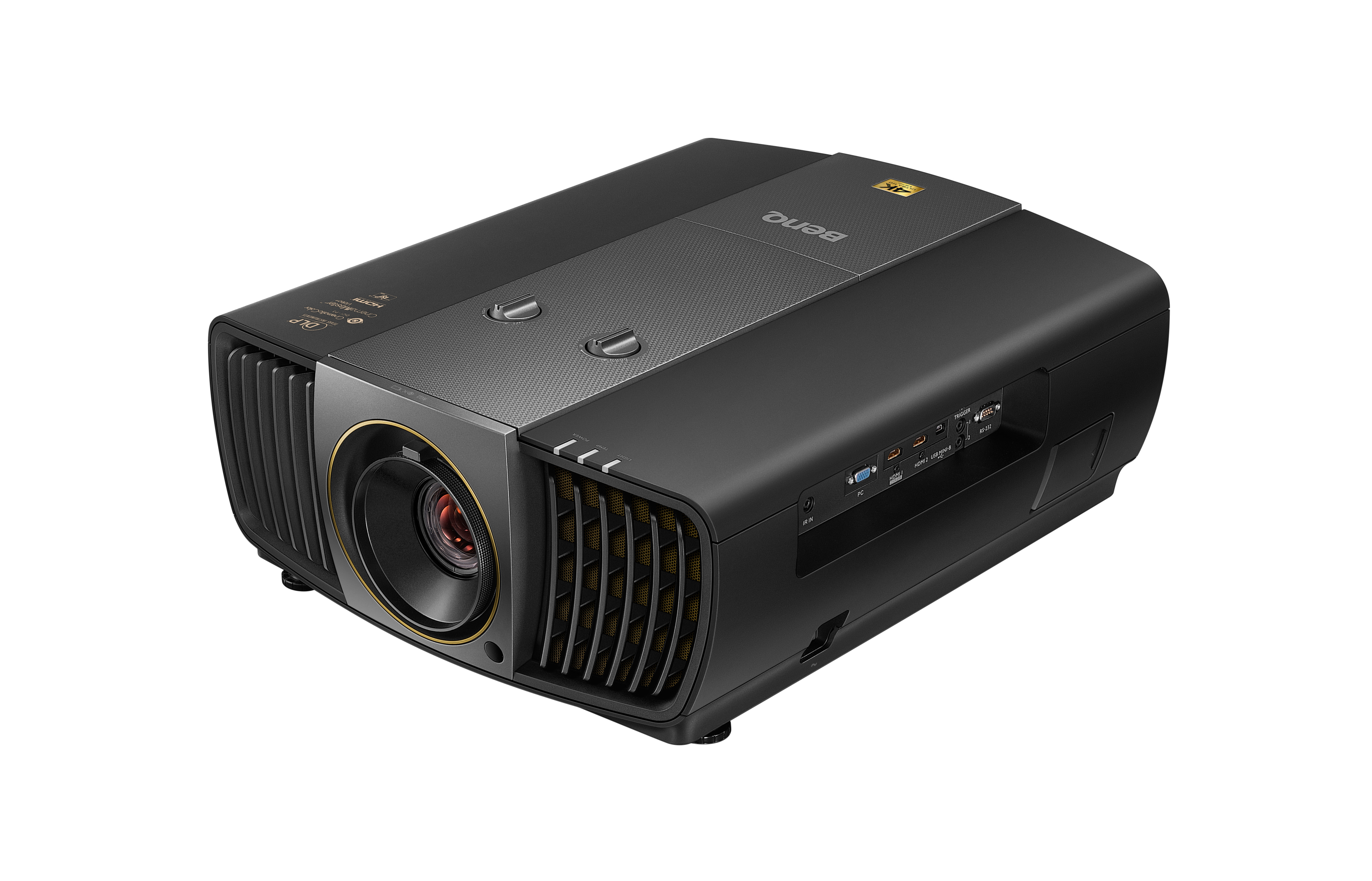 BenQ 4K UHD Projector Brings Digital Cinema to Life with Authentic Color Precision and High Brightness for Well-Lit Home Cinema Rooms
X12000 DLP 4K UHD home cinema projector produces 8.3 million distinct pixels for 4K UHD performance without panel-related artifacting, striking a perfect balance of high brightness from revolutionary Philips ColorSpark™ HLD LED technology and cinema-accurate colors from BenQ-exclusive CinematicColor™ Technology. Delivering the ultra-wide DCI-P3 color gamut to authentically capture the director's original vision to rival the picture quality of a commercial digital cinema, X12000 generates stunning 50,000:1 dynamic contrast for an ultra-realistic widescreen film viewing experience. With intelligent functionality and installation flexibility, X12000 is comprehensively equipped to integrate seamlessly into any upscale home cinema.
4K UHD with Razor-Sharp True 8.3 Million Pixel Detail
Distinct Clarity Without Artifacts from Panel Misalignment
Superb CinematicColor DCI-P3 Color Accuracy for Unmatched Digital Cinema Experience
ColorSpark HLD LED Technology for a New Level of Brightness for Well-Lit Environments
H/V Lens Shift & Big Zoom Lens for Installation Flexibility
Instant On/Off and Lamp Maintenance Free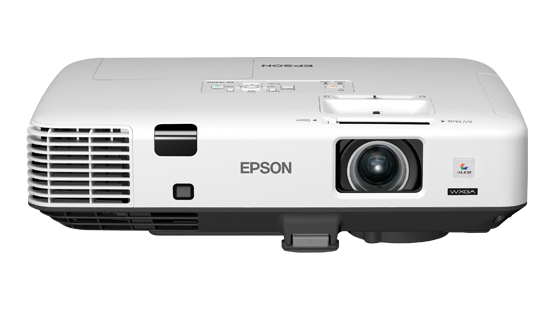 Epson 1930 XGA 3LCD Projector
Always The Right Angle For Your Business
Dimming the lights during presentations is a thing of the past. With the Epson EB-1930, you can enjoy uncompromised image quality even in a brightly lit room.
White Light Output 4,200 lumens, Colour Light Output 4,200 lumens
XGA Resolution
Split Screen Projection
Convenient Presentation through Epson iProjection
Clear images with accurate details Farouja DCDi - Eliminate Jagged Lines The EB-1930 features a Faroudja DCDi (Directional Correlational Deinterlacing) Cinema video enhancement processor that produces exceptional image quality without introducing artefacts. The Faroudja DCDi was developed to eliminate jagginess by using a unique algorithm, so your video-based presentations remain sharp all the time. Farouja DCDi - Enhanced Sharpness Greater depth and perception add appeal to your presentations. With TrueLife enhancement, a sharpness enhancement technology, the projector identifes and enhances transitions, such as skin texture, freckles and hair, to produce images with remarkable clarity and colour. Presentations have never been more compelling, with videos and images that are more visible and lifelike. DICOM SIM Mode This colour mode produces images with clear shadows, ideal for projecting X-rays and other medical images.* *Not for actual medical diagnosis Network Management For Easy Monitoring EasyMP Monitor With Epson's EasyMP Monitor network monitoring and control software, you can see from a single PC, which connected projectors are available and whether they are running efficiently  – even across the biggest network. You can also configure your projectors, monitor their statuses, access their serial numbers remotely, and even set up the software to deliver instant email alerts for pre-defined critical indicators such as non-functioning devices or overheating lamps. Message Broadcasting Now you can send messages or announcements as JPEG files simultaneously to any number of projectors on a network. This makes the EB-1930 useful for immediate communication needs or even emergencies.
Projection Technology:
Projection Technology: RGB liquid crystal shutter projection system (3LCD) Brightness*2:
White Light Output (Normal/Eco):
4,200lm / 2,730lm Colour Light Output: 4,200lm
Connectivity: Standard:1
Analog Input:
D-Sub 15 pin; 1 (Black) Component; D-sub 15pin (Blue molding) x 2 (in common with Analog RGB connector) Composite; RCA (Yellow) x 1 Digital Input:1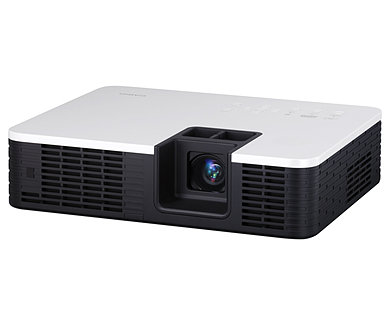 XGA Real 4000 lumens
Projects images at up to 4000 lumens, a high brightness level suitable for use in medium-sized halls.
Key Features
Ideally suited for fixed installation, such as ceiling-mount installation. Designed for large-screen projection in large spaces and bright rooms.
4 Key Qualities Realized by CASIO's Laser & LED Hybrid Light Source
Mercury-free high brightness up to 4000 lumens
Approximately 20,000-hour long-life light source with less brightness degradation
Startup as quick as 5-seconds* Fast ON & OFF switching for convenient usability
Enhanced beauty and realism A further leap forward in color reproduction
4000 lumens enabling projection virtually anywhere
These models achieve brightness as high as 4000 lumens without a mercury lamp. This enables large-screen projection in large conference rooms as well as clear projection of images in brightly lit rooms. It also contributes to combined use of the screen with other presentation materials and smooth communication between the presenter and the audience.
10W built-in monaural speaker
A 10W monaural speaker installed in the projector permits powerful sound output without an external speaker. A DLP® 3D projection function* adds a stereoscopic image projection capability, facilitating highly persuasive presentations with impressive audio and visuals. Note: Separately available 3D Glasses for CASIO Projectors (YA-G30) are required for 3D image viewing. See Options.
Reduced maintenance requirements
The long-life semiconductor light source reduces maintenance labor and costs dramatically as compared with conventional models that require mercury lamp replacement. The resulting convenience is particularly apparent in cases of fixed projector installation with a ceiling mount.
Wide function selection expanding the range of projector applications
A mouse-compatible interactive pointing function* supporting writing on the projection screen enables presenters to use the screen just like a whiteboard. A MobiShow®* compatible wireless LAN function permitting wireless communication with PCs and smart phones and a USB 2.0 host function* enabling PC-free presentations add further presentation possibilities for a variety of circumstances, from business meetings to seminars and conferences. Note: Separately available Interactive Pointer (YA-P10) required for use of the interactive pointing function. See Options.
Variety of interfaces for enhanced versatility
Two input terminals and one output terminal provide full PC connectivity. An HDMI terminal facilitates high-quality image presentations and a composite terminal supports connection with AV devices. Convenient control terminals handle such remote operations as power ON/OFF.